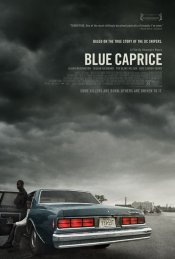 Storyline
Inspired by true events, Blue Caprice investigates the notorious and horrific Capital Beltway sniper attacks from the point of view of the two perpetrators, whose distorted father-son relationship facilitated their long and bloody journey across America. Blue Caprice documents the mechanisms that lead its subjects to embrace physical violence. Blue Caprice paints a riveting portrait of early 21st-century America and a haunting depiction of two cold-blooded killers that endures long after the film ends.
Cast: 
Tim Blake Nelson . . . . . . Ray
Isaiah Washington . . . . .John Allen Muhammad
Tequan Richmond . . . . .Lee Boyd Malvo
Joey Lauren Adams . . . Jamie
Leo Fitzpatrick . . . . . . . Arms Dealer
Cassandra Freeman.....Angela
Ad blocker interference detected!
Wikia is a free-to-use site that makes money from advertising. We have a modified experience for viewers using ad blockers

Wikia is not accessible if you've made further modifications. Remove the custom ad blocker rule(s) and the page will load as expected.