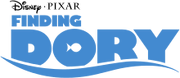 Finding Dory is an upcoming 2015 sequel to Finding Nemo
.It is scheduled to be released on 25th November 2015.
The film will revolve around Dory,the amnesiac blue tang,as she tries to find her way back to her family.
The place is set off the coast of California and one year after the events of Finding Nemo.
Characters
Edit
Ellen DeGeneres as Dory, a Pacific regal blue tang
Albert Brooks as Marlin, a clownfish Nemo's father
Diane Keaton as Jenny, Dory's mother
Eugene Levy as Charlie, Dory's father
Ty Burrell as Bailey, a beluga whale
It is also announced that Nemo and the Tank Gang will return
Ad blocker interference detected!
Wikia is a free-to-use site that makes money from advertising. We have a modified experience for viewers using ad blockers

Wikia is not accessible if you've made further modifications. Remove the custom ad blocker rule(s) and the page will load as expected.