Man of Steel vs The Dark Knight is a upcoming movie coming in 2015, the movie is informational about Superman vs Batman, from the producers of the Dark Knight and the Man of Steel. Featuring other heros and other villians that will be in the movie from the Dark Knight and the Man of Steel. It will be a ultimate battle of Superman vs Batman. The movie will be Live action and not a Anime (Cartoon).
Photos/Gallery
Edit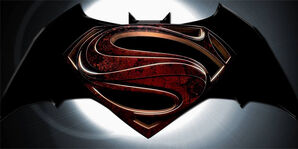 Ad blocker interference detected!
Wikia is a free-to-use site that makes money from advertising. We have a modified experience for viewers using ad blockers

Wikia is not accessible if you've made further modifications. Remove the custom ad blocker rule(s) and the page will load as expected.