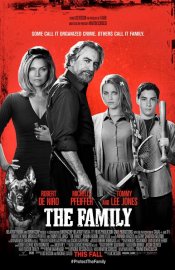 Storyline
A mafia boss and his family are relocated to a sleepy town in France under the witness protection program after snitching on the mob. Despite the best efforts of Agent Stansfield (Tommy Lee Jones) to keep them in line, Fred Manzoni (Robert DeNiro), his wife Maggie (Michelle Pfeiffer) and their children Belle (Dianna Agron) and Warren (John D'Leo) can't help but revert to old habits and blow their cover by handling their problems the "family" way, enabling their former mafia cronies to track them down. Chaos ensues as old scores are settled in the unlikeliest of settings in this darkly funny film by Luc Besson (Taken, Transporter).
Ad blocker interference detected!
Wikia is a free-to-use site that makes money from advertising. We have a modified experience for viewers using ad blockers

Wikia is not accessible if you've made further modifications. Remove the custom ad blocker rule(s) and the page will load as expected.