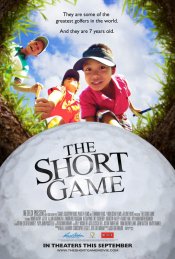 Storyline
Follows the lives of eight of the best 7-year-old golfers in the world as they train for and compete in the World Championships of Junior Golf. The annual tournament held at golfing mecca Pinehurst, North Carolina, brings in 1500 young golfers from 54 different countries and determines who will be crowned golf's next phenom. In its course, the eight stories entwine to form a fascinating and often funny portrait of a group of very young athletes and their families, in which the narrow-focused, peculiar and highly competitive junior golf subculture becomes both a window into contemporary global society and an inspiring reflection of the human condition.
Ad blocker interference detected!
Wikia is a free-to-use site that makes money from advertising. We have a modified experience for viewers using ad blockers

Wikia is not accessible if you've made further modifications. Remove the custom ad blocker rule(s) and the page will load as expected.