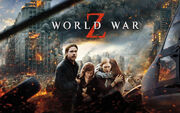 This Eqivelent of Zombie repelent turns out to be purposly infecting yourself with a lethal Virus. The Virus that you infect your self makes the Zombies think that your already dead or as they say "Dead to Rights" . Basically by becoming a person thats going to die the zombies cant see you and you become Invisible to them. But what the Zombies dont know is that the Humans are only infecting themselves with Curable Viruses. So it turns out that the people are not "Dead to rights" but merely how they say ,"playing possum" .
Eventually after the a few days this zombie repellent tactic spreads all over the world and it remains unclear if the zombies will ever learn or evolve and defeat this repellent and thus set up for a part 2 of this movie.
Ad blocker interference detected!
Wikia is a free-to-use site that makes money from advertising. We have a modified experience for viewers using ad blockers

Wikia is not accessible if you've made further modifications. Remove the custom ad blocker rule(s) and the page will load as expected.