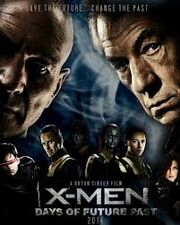 X-Men: Days of Future Past is a movie that will be released on May 23, 2014.
The X-Men send Wolverine travel to the past so they can change the fate of Humanity and the world.
Cast and Crew

Edit
Hugh Jackman- Wolverine/Logan
Jennifer Lawerence- Raven/Mystiqe
Nicholas Hoult- Beast/ Hank Mccoy
Michael Fassbender- Erik Lehnsher/Magneto (past)
James McAvoy- Charles Exavier (past)
Halle Berry- Storm
Directed by Bryan Singer
Produced by Stan Lee
By Marvel Studios and 20th Century Fox
Ad blocker interference detected!
Wikia is a free-to-use site that makes money from advertising. We have a modified experience for viewers using ad blockers

Wikia is not accessible if you've made further modifications. Remove the custom ad blocker rule(s) and the page will load as expected.